Open table of content

Website of the day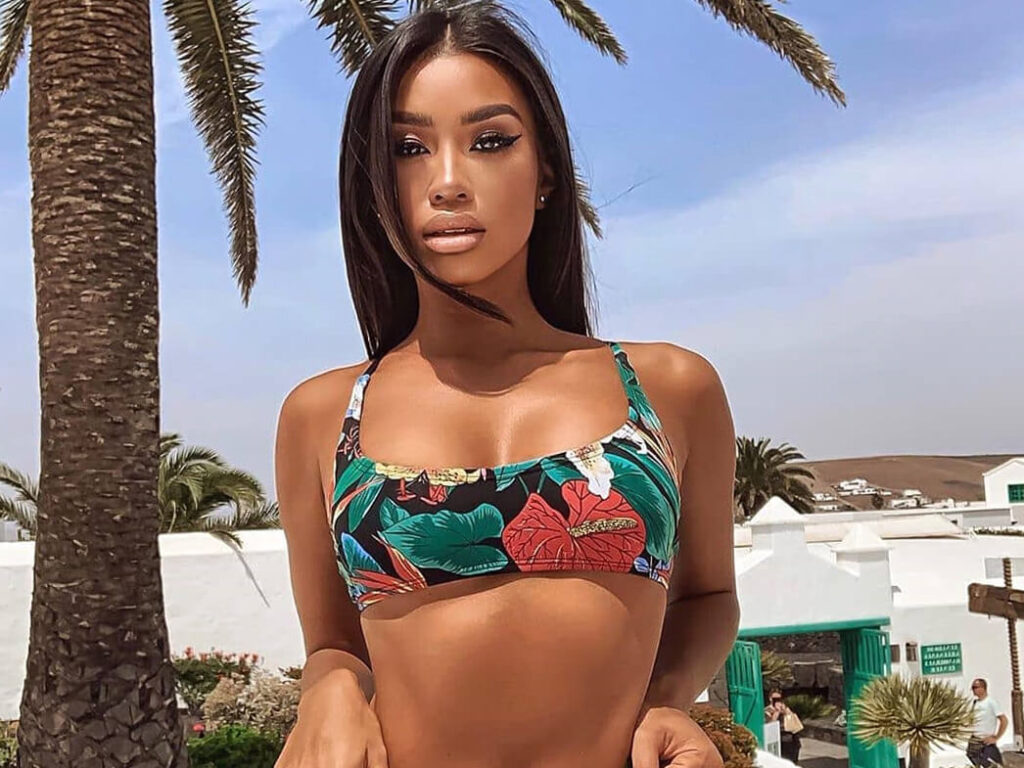 Amigos.com: Deep Review of Popular Latin Singles Community
Finding a reputable dating service with Latinas waiting to meet a person like you can be indeed a difficult task. Amigos dating site is one of those that might deserve the chance. The matter is, this dating niche has been oversaturated with low-quality parodies on big and credible services. Indeed, finding a good and trustworthy website is like finding a black pearl among hundreds of empty clams.
OUR VERDICT
Ease of Use

Profiles Quality

Safety

Prices

PROS
Registration Won't Take Long
Tons of Hispanic Women
Cheap In-Service Purchases
CONS
Some Profiles Don't Look Real
Users Can Respond Longer than You Expect
Risk of Scammers
Summary
Today, we review the website called Amigos.com. There are many different women you can meet here, we admit that after testing out the service for several days. One of the key features though is the chance of meeting them from Hispanic countries all across the world. Amigos dating is for those who want to find a soulmate who will carry direct Latin origin. Of course, you can choose any country you want and find Latinas who are in your country, but this isn't the case to get tons of new connections. In this Amigos com review, we'll test all the features the website offers and whether it has decent quality to keep you focused on the successful dating game.
Check all reviews
In this Amigos com review, we'll test all the features the website offers and whether it has decent quality to keep you focused on the successful dating game.
How Does Amigos.com Work?
In this Amigos dating site review, we'll try to reveal the step-by-step process of becoming a member of this Hispanic dating community, contacting new people, and using extras for other devices than come along with the desktop version of the website.
Sign-Up Process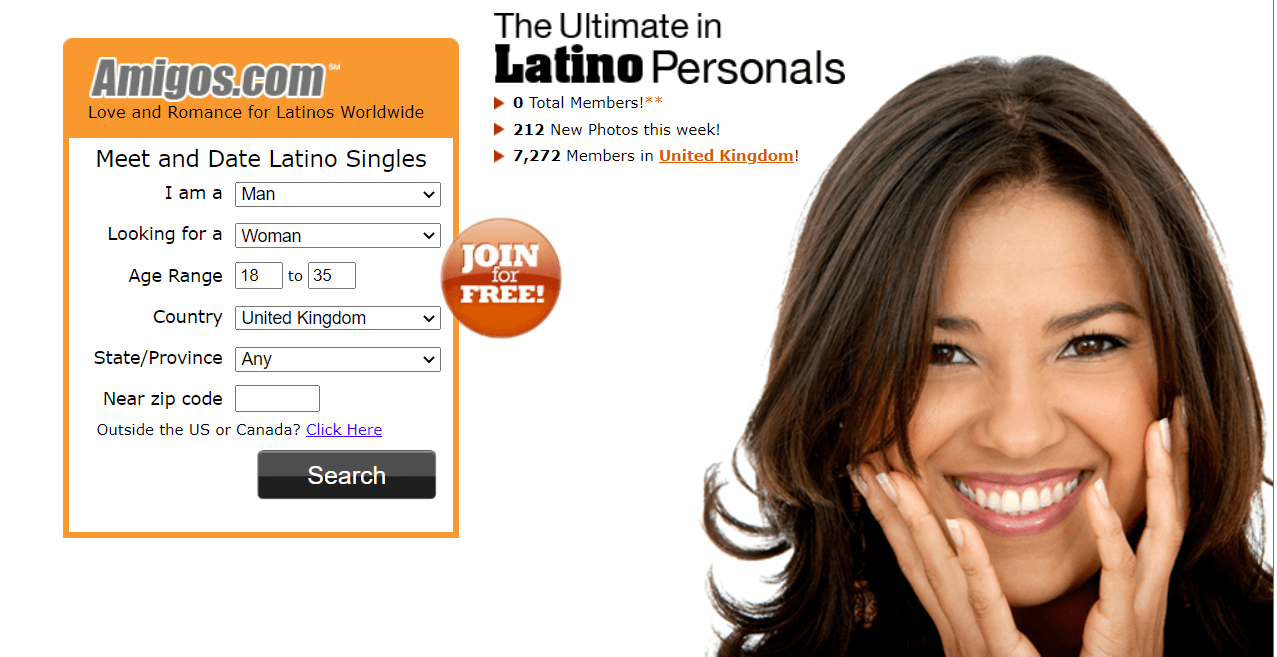 To sign up on Amigos.com, you have to complete several steps of registration. On the main screen, you have to choose the basic information to start using this dating service:
Your Gender
Who are you looking for (Woman or Man)
Country where your profile will be registered
State or province
Zip code of your geolocation
When you've chosen all of that, you can do two things. Either press the Search button or select Join for Free. In either case, you'll proceed to the next part of registration.
The whole registration consists of 5 steps. During the first of them, you have to provide the following data:
Your Gender
WHo are you looking for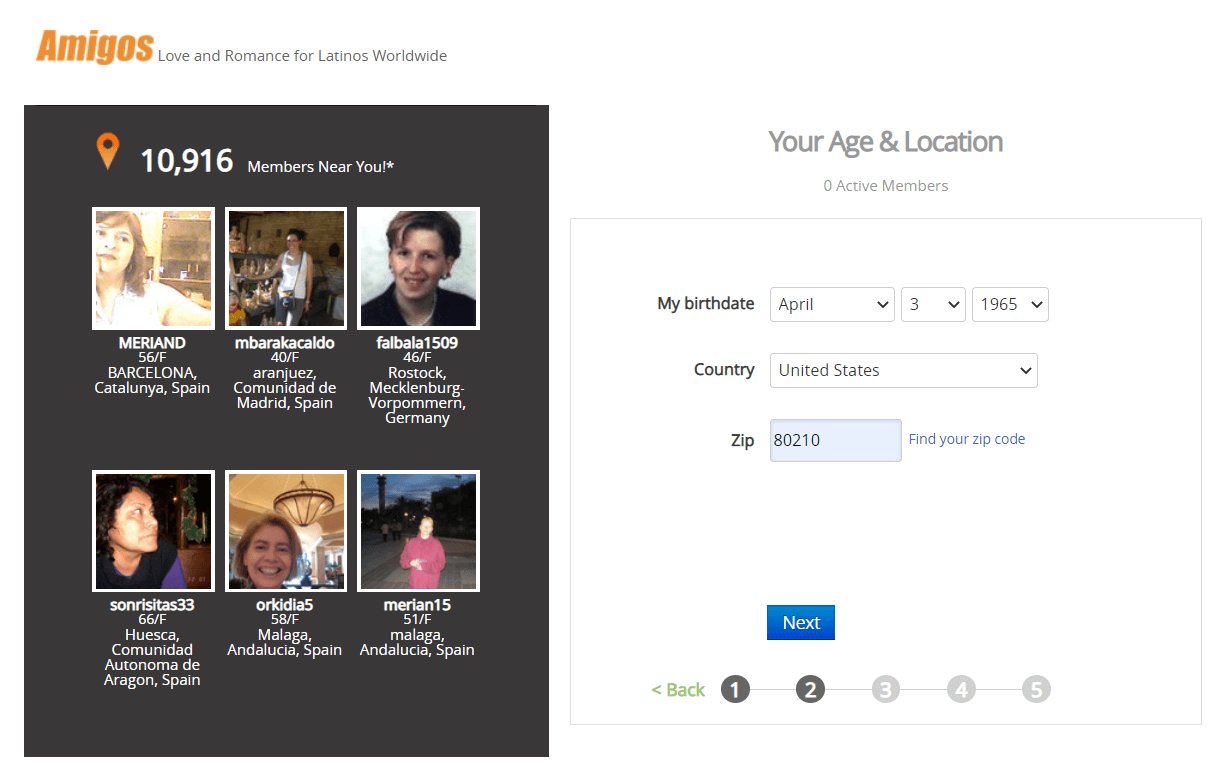 The next stage is to give the service Your Age and Location. The criteria needed for the service to create your personal profile are the following:
Your Birthdate (Month, Day, and Year)
Your Country
Zip Code of Your Location
When you're ready to go to the next stage, press the Next button
One of the final steps to get access to your profile is to provide a valid email where you'll receive the confirmation code of account activation. You'll need to fill in the next fields:
Email that can be used
Username which will be linked to your account
Reliable password
Whenever you're ready, press the Next button and you're almost prepared to become the regular member at Amigos.com
Members & Messaging
The service starts with free access, and it's fair to notice that won't be enough for you to use it with pleasure. The basic functionality is very limited, and requires you to jump to premium as soon as possible. For instance, you won't be able to check the full version of other people's profiles when opening them. You'll see only avatar thumbnails without any descriptions and so on. Those features are locked until you upgrade to Gold or Silver membership statuses.
Messaging is also limited in the free version. In fact, you're not able to communicate with every website member. If you like someone's profile, you can't just write to those people. Guests have the ability to be contacted only by members who pay, they're not able to start chatting on their own. To sum up, you can chat with the majority of users only when starting paid membership, a different scenario isn't possible.
App
The service has a separate mobile application. So far, we managed to discover the application for iOS. The app generally delivers a good experience and first impression. We had no idea why it got a low rating in the App Store. The experience isn't different from the mobile version of Amigos.com. Both app and web versions have a similar interface. However, you won't be able to access the desktop version of the service inside of the application. Sometimes, it's more convenient to use exactly the full version because of limitations caused by the smaller screen. Overall, it's not obligatory to install an Amigos.com app because you can use the service without it not losing the quality of user experience.
Design & Usability
The design of the service can't be labeled as the last word in the segment of online dating. In fact, it looks like the one from the end of the 2000s. The whole design looks generic and even discouraging given how modern the services like Tinder look today. If you're not the fan of web aesthetic pleasures, then you'd probably be fine with Amigos.com
The whole usability experience grounds on three pillars. You can do separate chast, write within the website, and use the application for private talks. The usability of Amigos.com depends on those features, yet the service lacks video communication features. It's not available on the dating service like this one, and that disappoints. However, you can still send video greetings to other users.
Pricing & Payment Methods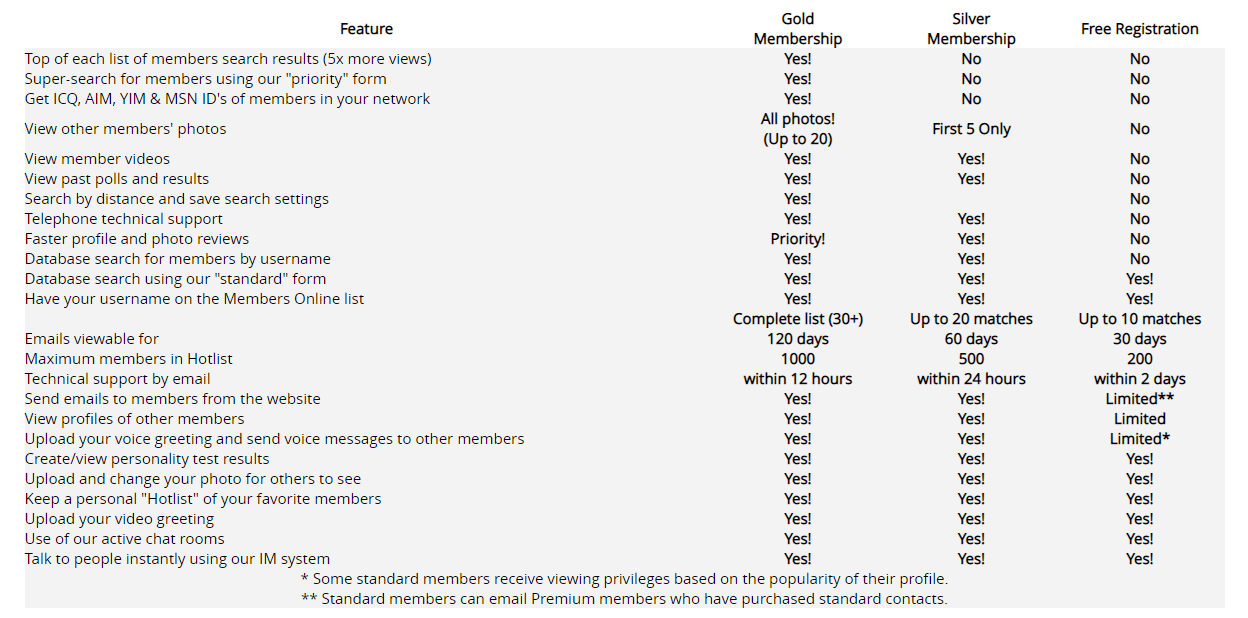 As for the actual prices for Silver and Gold memberships, the service doesn't explicitly show how much it costs. We managed to retrieve the chart of the services displayed above, but there is no mention of the real prices for them. Apparently, Amigos.com is interested in hiding the real costs because they change all the time. In any case, we weren't satisfied with this lack of transparency regarding the financial side of the dating service. Amigos is the rare example of the dating service that shades what has to be evident.
Safety & Security
We give a moderate security rating to Amigos.com. The website administration promises to provide users a secure and safe experience during registration and payments. We liked that the uploaded photos are being tested by the system to exclude any kind of pornogrphy or violent pics. Such fact increases the level of credibility and trust to Amigos.com. At the same time, we encountered several bot accounts and many of those do not have an avatar or any information at all. Strangely, those accounts were active and wrote messages to us without even opening their pages. It means that Amigos.com has tons of bots and scam probabilities that could happen to users new to the online dating game. As you can see, Amigos balances between secure promises and the fact of having bot accounts and traffic all over the place. Only time will show whether this service will improve its credibility.
The Verdict
At our review website, we always want to provide readers the most reputable conclusion about using this or that dating service. In the case of Amigos.com, the situation is evident, and we can tell you whether it deserves time or not. We give it a neutral quality mark because it doesn't stand the promise of a 100% secure Latin dating site. Unfortunately, we found traces of bots and unclear monetization charts. The service doesn't want you to know how much it would cost to use it. Other than that, the service offers brilliant opportunities for finding a real person to chat with. During the test, we verified at least several people who gave us their social media account links. Amigos.com is mostly for dating connoisseurs who want to meet people exactly of Hispanic origins.
FAQ
What is Amigos.com?
Amigos.com is the dating website created for people looking for connections with Latina users who originate from countries of Central America, Spain, or Portugal.
Is Amigos.com a Scam?
We would not label Amigos.com as a scam. The service has a real user base of actual people who want to start relationships.
How much does Amigos.com cost?
The service doesn't want to provide transparent monetization. We haven't found the actual service price net inside of the Help section of the website. The only thing we found was the list of features under Silver or Gold memberships.
Can I use Amigos.com anonymously?
Yes, you can. However, don't expect many real people to get interested in your misleading profile.
Is Amigos.com messaging free?
Amigos.com has free messaging only with paid members in case you're using the basic profile. When you upgrade to Silver or Gold memberships, they promise unlock messaging with all users.
How do I delete my Amigos.com account?
Accounts can be deleted in your personal profile settings.