Open table of content

Website of the day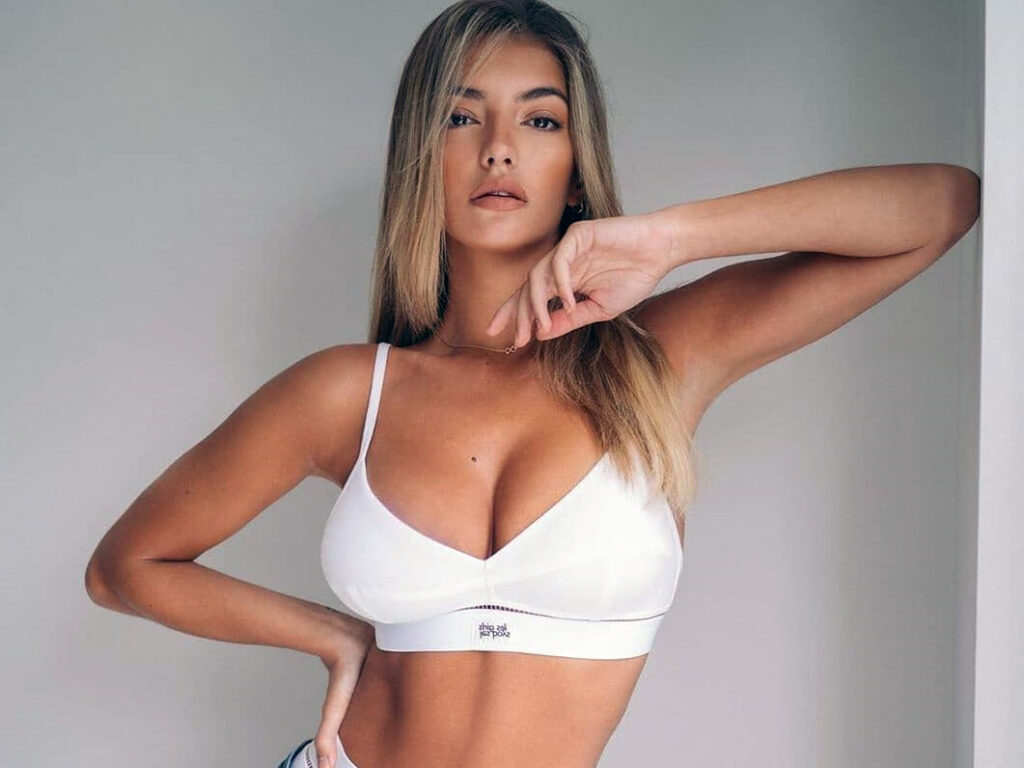 Hispanic Brides
AmorenLinea – a Real Dating Oasis or Scam?
AmorenLinea is a Spanish dating website that belongs to the Oasis Dating Network operated by 3H Group Pty Ltd. This platform was created in 1999. The site attracts more than 1.9 million unique visitors every month, which speaks of the broad audience. We have summarized the pros and cons of this service so that you can get familiar with them below.
Visit Site
OUR VERDICT
Ease of Use

Profiles Quality

Safety

Prices

PROS
Free communication
Mobile app
LGBTQ-friendly site
CONS
Laggy application
Poor anti-fraud measures
Fake profiles
Irritating ads
Summary
Read our AmorenLinea review to check the prices and features of this service in detail.
Visit Site
How it Works
The site is available in Spanish and English (American and British). Unlike other dating services, AmorenLinea allows you to search for users without registration. Scroll down the homepage and press the View More Profiles button to enable website search.
You will get to the search settings. However, they are pretty limited. To use more advanced search criteria, you have to register an account.
Registration Process
The Oasis network shares the profile database. So by registering an account on AmorenLinea, you will be able to use other Oasis websites without setting separate profiles.
Take these steps to set up an account on this platform:
Go to AmorenLinea.com, indicate your gender, and press the Join Now button. Fortunately, the platform is LGBTQ-friendly, which allows you to select from more than two options in this form. Alternatively, you can join the site with your Facebook account. No notifications will appear on your Facebook page.
You will proceed to the registration menu. You need to include your email address, think of the username and password for your account, indicate the date of birth, and paste your postcode. After that, press Create My Profile.
Your registration is complete. After that, go to your mailbox to confirm the sign-up. You will proceed to the AmorenLinea login page to enter your account once again.
AmorenLinea Dashboard
Once you get to the control panel for the first time, you receive a short explanation of how the service works. As you see, you can start a conversation after saying "yes" to the person interested in you.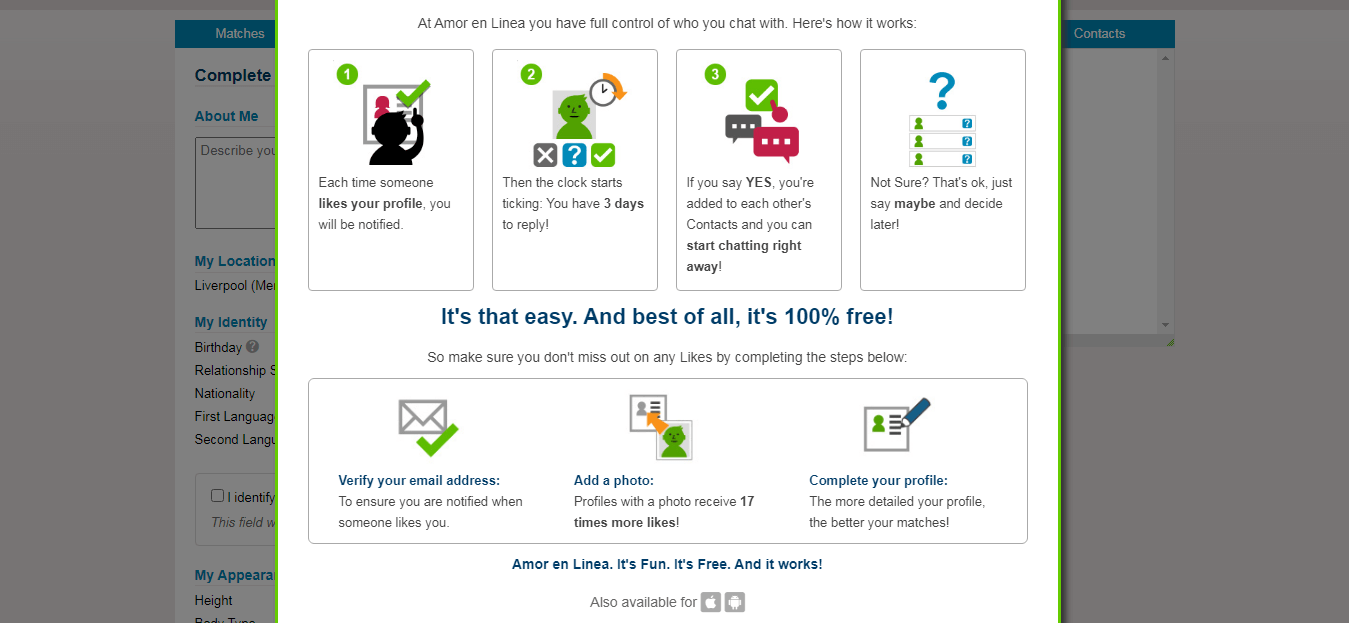 The AmorenLiea dashboard does not stand out in terms of design. It seems to be unfinished. The main dashboard sections are placed in the page's body to leave more space for ads in the upper bar. The chats are displayed on the right side, while the profile management section is located on the upper right side. Advertisements take a lot of space on your account page. However, as long as you have an ad blocker, this will never be an issue.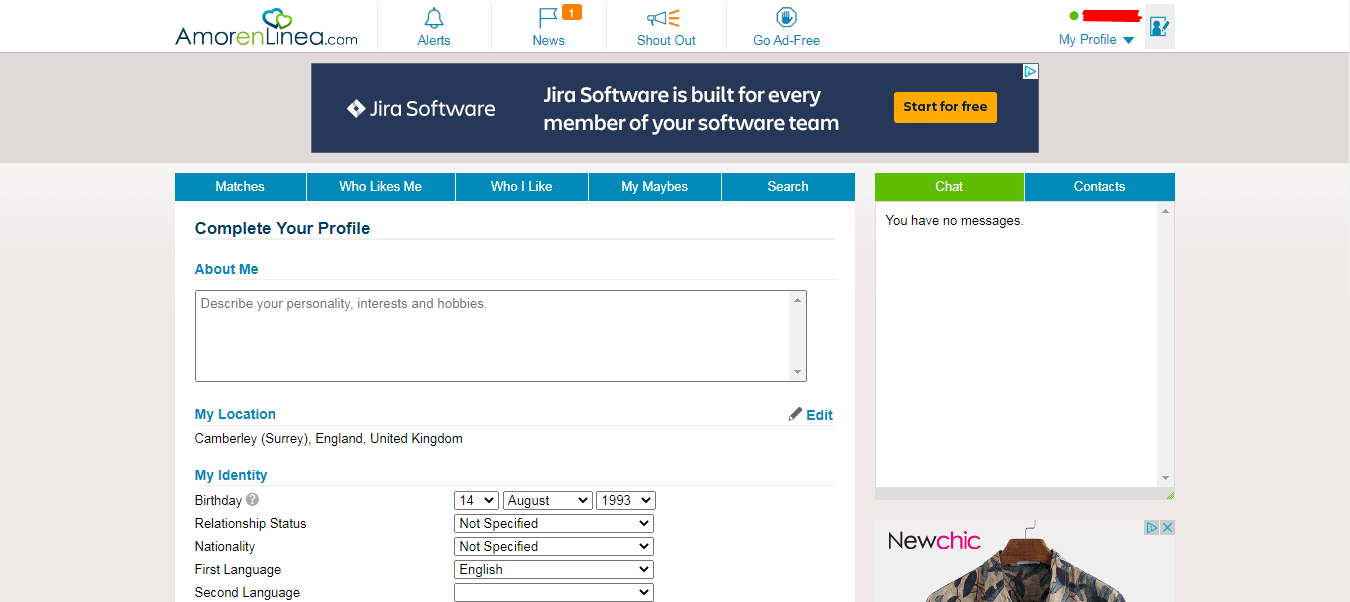 Let us now proceed to profile completion.
Completing Amor en Linea com Profile
Reach the profile editing section located in the profile management menu on the upper right side.
It contains pretty standard surveys similar to other dating platforms:
About Me. You can add a self-description in this section.
Identity. You can update such information as date of birth (if you entered a wrong date mistakenly, for instance), languages, relationship status, and nationality. You can also identify yourself as transgender, which adds to the inclusivity of the service.
Appearance. It includes pretty standard questions on your height, body type, ethnicity, etc. This section is, however, much shorter compared to other dating services.
Lifestyle and Personality. You can specify your marriage views, employment status, whether you have or want children, your religion, etc.
Interests. There is an ordinary list of hobbies. However, you can include something that goes beyond the offered options.
Your ideal match. Here you can describe your ideal partner and specify some matching criteria such as age range and maximum distance from you. The good thing is that you can filter those people who live three minutes away from you.
Afterward, go to Update Photo in the account/profile management menu to upload a profile picture.
AmorenLinea established a set of rules for visual content, so make sure you follow them. Otherwise, your picture will not be approved. You can include fresh photos with your face being clearly visible.
AmorenLinea also offers an extensive range of search criteria that ensure maximum precision:
Age range
Location
Online only
Profile photo only
All Identity, Appearance, Lifestyle & Personality questions (similar to those in your profile completion section)
Locate the Search section in your dashboard to enable website search.
Two filters allow you to exclude transgender users and members who you previously interacted with or blocked.
Communication on the Platform
To talk to other people on the platform, you need to "like" them and wait until they "like" you in return. If someone shows interest in you, you have up to three days to respond.
You can also add some notes about members, block, and report them if you suspect scams. Any entertainment options are absent on AmorenLinea. No video shows, live streams, group chats, or other features related to the website community are supported.
Shout Out
You can send a short prewritten message to "hundreds of your matches" with the Shout Out feature. It aims to help you get acquainted with many people at a time. There are five message variations available for broadcasting. This feature is paid. However, the service does not explain how many people will receive your letter. It does not warrant instant matching as well because your success depends primarily on the quality of your profile.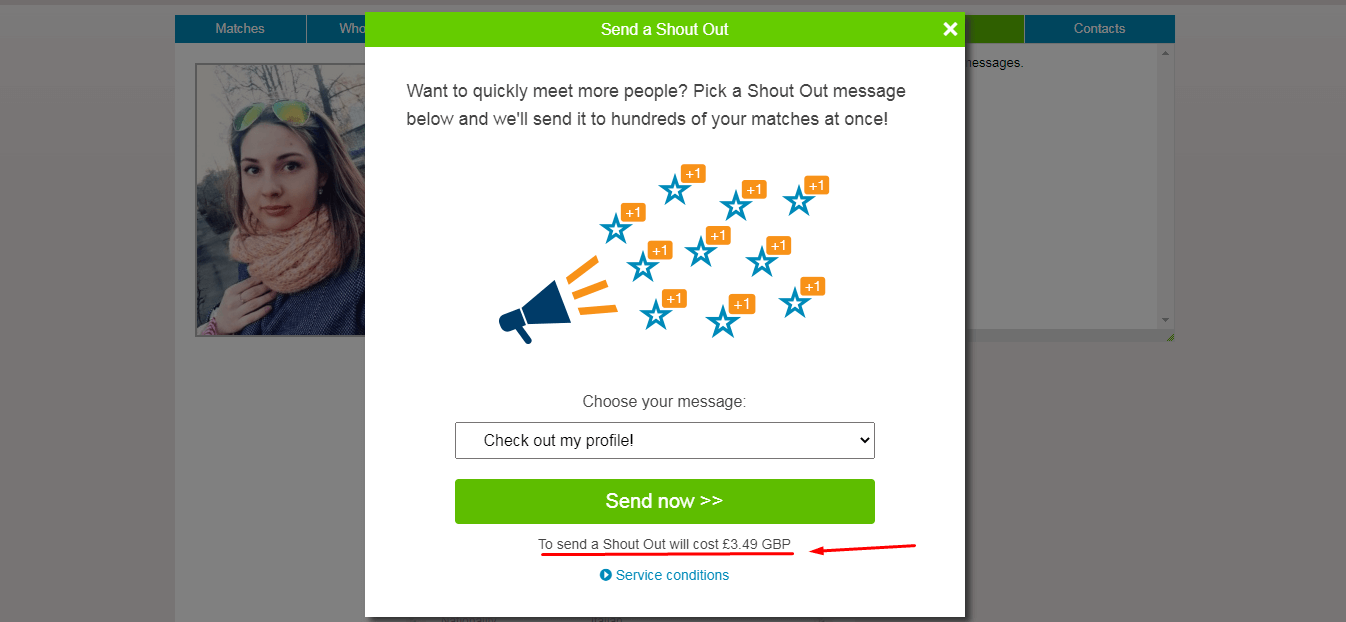 Mobile Application
The service is available on the go. You can download the AmorenLinea app from Google Play and App Store. It is compatible with all mobile devices. On the other side, you will have to skip popping advertisements quite often while using the application. Also, many users mention performance issues.
Audience
More than 22 million people are registered on the AmorenLinea website. Approximately 300,000 registered members use the site every day. These numbers are pretty believable, assuming monthly traffic statistics of the website.
Although all countries are available in the website search (even including North Korea), 90% of the people live in Spain and other Spanish-speaking countries such as Argentina, Chile, and others. Amor en Linea USA and UK users also constitute a substantial part of the audience.
Quality of Dating Profiles
Generally, people post quite natural pictures and complete their dating profiles. You will find lots of users with detailed descriptions, which makes website search far more convenient.
Fakes and Scammers
The profile we exemplified above is fake. Copy and paste this image on google, and you will find several links to dating platforms and Twitter of the person displayed on this AmorenLinea profile.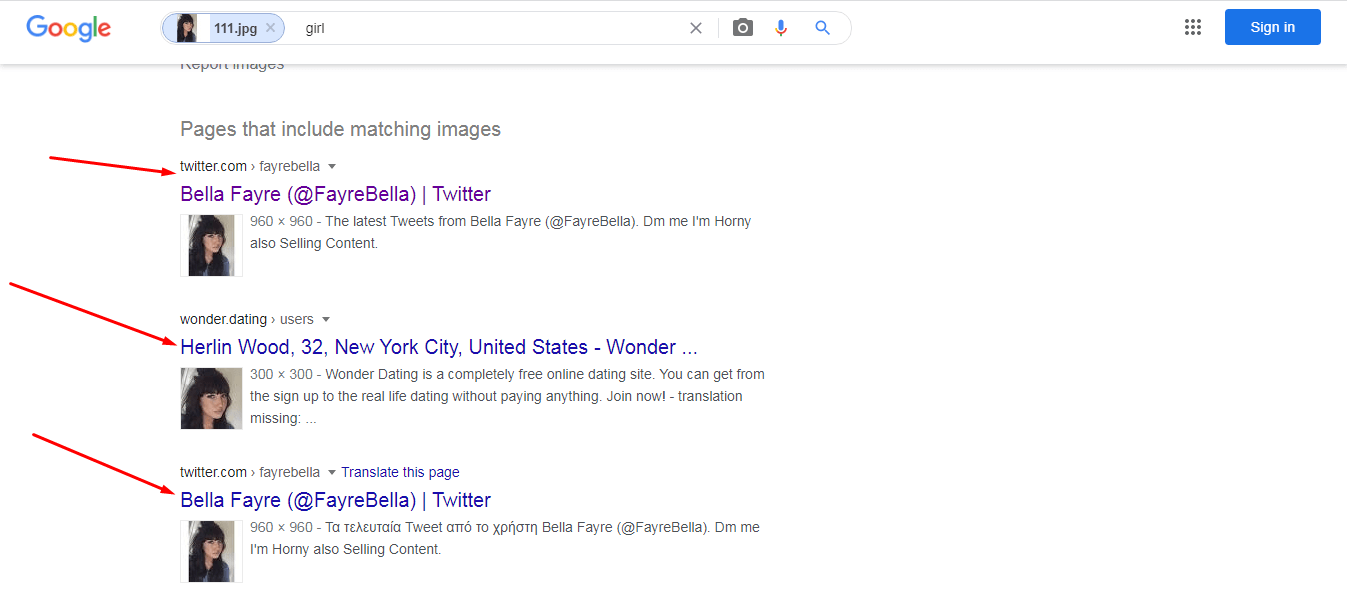 You cannot browse a single AmorenLinea.com review on the web directly. Instead, google Oasis (as we mentioned before, AmorenLinea is a part of it). You will find lots of testimonials mentioning fakes and poor rating of this network in general.
Pricing
Communication is entirely free on this platform. You can send unlimited messages to an unlimited number of people with Amor en Linea chat. The Shout Out feature costs £3.49 per message. Disabling advertisements will cost you £3.49 per month. Available payment options include PayPal and cards. Other dating services, in contrast, provide a far more extensive range of payment methods.

Safety
Your financial information will be stored on the company's servers. There is no warranty, however, that your data will be kept safe. Amor en Linea does not display any digital security certification that would speak of its reliability. Therefore, there is a high chance that your information will be stolen.
Anti-Fraud Measures
As we mentioned before, many customers complain about scam AmorenLinea members trying to take their money. The service does not seem to apply effective safety measures against fraudsters and fakes.
No profile verification is supported either. Upon registration, however, the customer support team will review your profile. It is ineffective, assuming lots of complaints and poor ratings of the Oasis Network.
FAQ
What is AmorenLinea?
AmorenLinea is a dating website that aims to unite people from Spanish-speaking countries, the US, and the UK predominantly.
How much does AmorenLinea Cost?
Registration and chats are free. Paid services include removing advertisements and broadcasting invitation messages. You can disable ads at £3.45 per month and send Shout Outs at £3.45 per message.
Is AmorenLinea Legit?
The service cannot ensure a safe environment because of fakes on its platform. It does not feature digital security certificates, which makes purchases risky.
Who owns AmorenLinea?
AmorenLinea is a part of the Oasis Dating Network operated by 3H Group Pty Ltd.
Does AmorenLinea have a Mobile App?
Yes, you can download the application from Google Play and App Store for free.
How do I Delete my AmorenLinea Account?
Take these steps to delete your account:
Go to the settings section in the account management menu.
Follow the account deactivation link.
Select the reason for account deletion and press Confirm.