Open table of content

Website of the day
LatinLove – Exciting Dating Experience or Complete Disappointment?
LatinLove is a dating agency operated by IK Softwareportal GmbH, an IT company registered in Berlin. Latin Love was launched in 2006, so it is quite an old dating service that aims to unite Latin singles.
OUR VERDICT
Ease of Use

Profiles Quality

Safety

Prices

PROS
Mobile application
Secure pricing policy
Membership discounts
CONS
Outdated website and dashboard design
Unclear navigation
Fake profiles
Summary
The site generates around 60,000 monthly visits. Compared to other dating providers, this one does not host a broad audience. What about its services and prices? Check our LatinLove review to find these details out.
Check all reviews
How it Works
Once you enter the LatinLove website, you will instantly notice the poor design, toxic color scheme, and inconvenient layout. The website elements seem to be in the wrong places. Scroll down the main page to read some success stories in the testimonial section. However, you cannot check whether they are written by real people or serve the promotional function.
There is nothing to do on the homepage but registering the account since the service does not allow you to browse dating profiles before registration.
LatinLove Sign-up Process
Take these steps to set up a profile:
Go to LatinLove.org and press the Join for Free button.
Fill in the registration form. It is pretty regular, meaning you need to include your name, email address, create a password, indicate your birthdate, gender, and select who you will be looking for on the platform. When it comes to gender identification, you can choose from several variants since this platform is LGBTQ-friendly. After filling out the form, complete a captcha and press Register.
In the next stage, you need to indicate your dating intentions: whether you register for fun, marriage, or friendship. This survey also includes questions on your nationality, marital status, habits such as drinking and smoking, etc. Therefore, you basically start completing your profile during the registration. You can skip some of the questions except for marital status, height, and weight.
Then, the service will suggest you to take a profile picture. You can skip this stage.
The fourth section suggests you specify your preferences concerning future dates. There are a few options that include height, age, gender, and marital status. You can also exclude people from unwanted countries.
The registration is almost finished. The next stage requires indicating your priorities in relationship and life in the form of a survey. You need to add a self-description as well. The administration will check it. So, it should not include your contact information.
In the last section, you can specify what information to display on your profile. After that, press Accept to finish your registration.
The sign-up process is lengthy, making the service inconvenient and unpleasant, especially assuming the toxic design.
LatinLove Dashboard
Similar to the website interface, the dashboard does not stand out in terms of usability. The profile management section is duplicated on the left side, while the main statistics are displayed in the footer.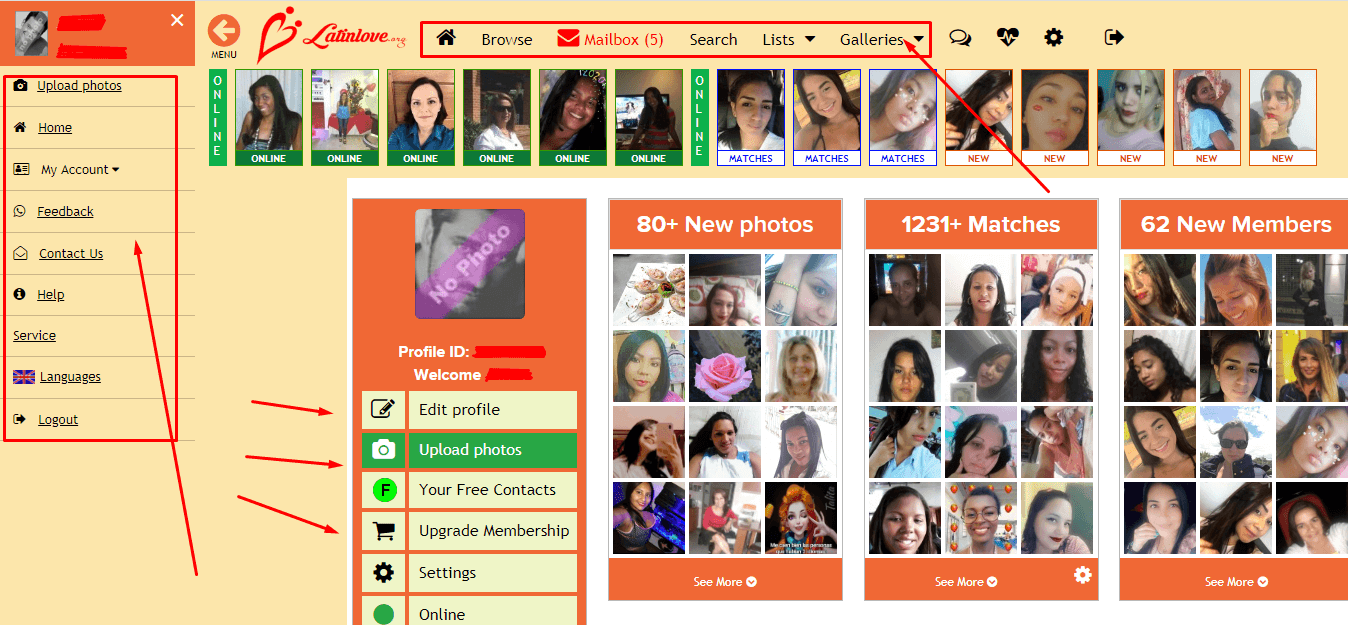 Settings are displayed on the upper right side yet also duplicated in the people management section.
The dashboard is outdated, with copied elements placed on opposite sides of the page, ambiguous navigation, and irritating color scheme.
Let us see what this service offers in terms of self-representation.
LatinLove Profile Completion
To stand out from other users and succeed in online dating in general, you need to set up an engaging profile. For this, proceed to the profile editing section on the left.
It contains the same surveys you had to complete during registration. Additionally, it offers an interview. Some questions, however, have very ordinary answers to select from.
There is a section with questions on your personal qualities at the bottom of the page.
An engaging photo should always accompany your profile. Scroll up the page and follow the Photos link. Unlike other services, LatinLove allows you to upload a picture from many sources such as Facebook, Instagram, email, and even by post. Pay attention to picture requirements. Make sure your images meet all of them.
Matches
There is no opportunity for finding precise matches. A few criteria do not allow you to adjust them according to your preferences. You can only change:
Age
Gender
Children/ no children
With photos only
Height
You can also determine whether the service should send you dating proposals to email or LatinLove mailbox.
Detailed Website Search
While a quick website search allows you to adjust only age, gender, country, and children (have/don't have), advanced search offers many more criteria such as:
City
Registration period
Spoken language
Zodiac sign
Job
Relationship priorities
Life priorities
Nationality
Education
Religion
Smoking and drinking
Relocation
Communication Options
LatinLove allows you to contact members via:
WhatsApp and email are only available if users prefer to share these contact details. If they hide them, you should settle down with LatinLove chat. The good thing is that you can call members, initiate a video chat, upload photos, and stickers besides regular text messages.
Mobile Application
LatinLove features a dating application called Kisses Dating. It is available both on Google Play and the official LatinLove website. Unfortunately, it is compatible with Android devices only. The app provides you with access to ten dating sites by IK Softwareportal GmbH, including LatinLove, which is quite convenient. However, it is rated by only 3.6/5 because of the inconvenience and paid membership (many users complain about high prices).
Audience
The LatinLove audience is rather small compared to other dating services. You will probably have to switch to other platforms if you aim at countless profiles. Most users live in Latin countries. When it comes to audience distribution, there are approximately 6,000 women, 10,000 men, and about 50 transgender people. As you can see, men outnumber women on this platform.
Photo Quality
Most users post several photos of average quality. Some look like top Instagram models, but it is rather an exception. When it comes to profile descriptions, there is no consistency though. You will mostly find people with some of the completed surveys, but nothing more. Here is the example of a detailed dating profile on LatinLove.
Lots of Fakes
If you see a beautiful profile on the platform, it is very likely to be a fake. Check this profile.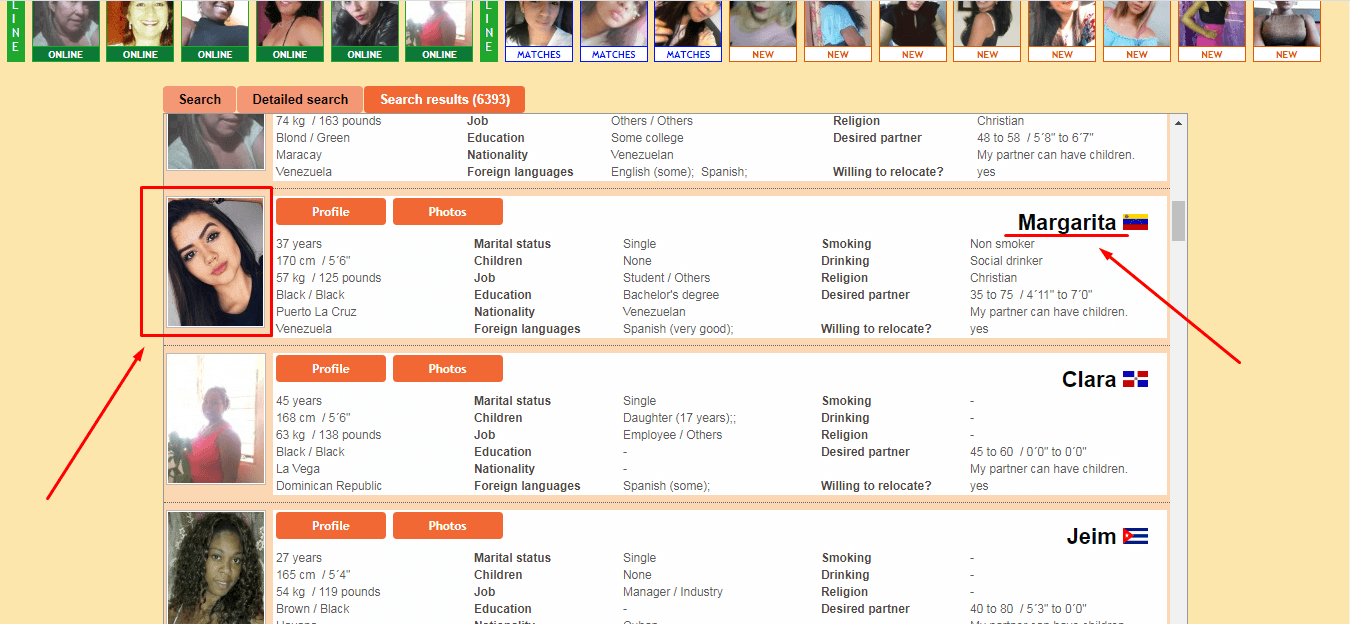 And now, look at the Google results. This person has taken the photo from the internet. This person registered ten days ago from the moment of our LatinLove.org review completion. Nothing has been done to check or block this profile.
Pricing
Registration is completely free on the site. Browsing users' photos and managing your account is also free. But communication requires purchasing a premium membership.
LatinLove offers a gold membership with the following benefits:
Chatting with contacts
Access to all users' photos
Maximum 300 contacts. It means you can chat with up to 300 members per month. With the next purchase, you can add 300 more people
Translation in emails
The prices are the following:
One month at €27.00 − 300 contacts (auto-renewal). One time purchase costs €35.00.
Three months at €70.00 − 900 contacts + one month for free.
Six months at €105.00 − 1800 contacts + three months for free.
12 months at €140.00 − 3600 contacts + seven months for free.
A loyalty program is also available and offers the following discounts:
5% for the second purchase
10% for the third membership renewal
15% for the fourth membership purchase
50% for the 11th purchase
Payment Options
LatinLove offers a wide range of payment options. Moreover, it shows fees, which is convenient since you can always see what price you pay in total.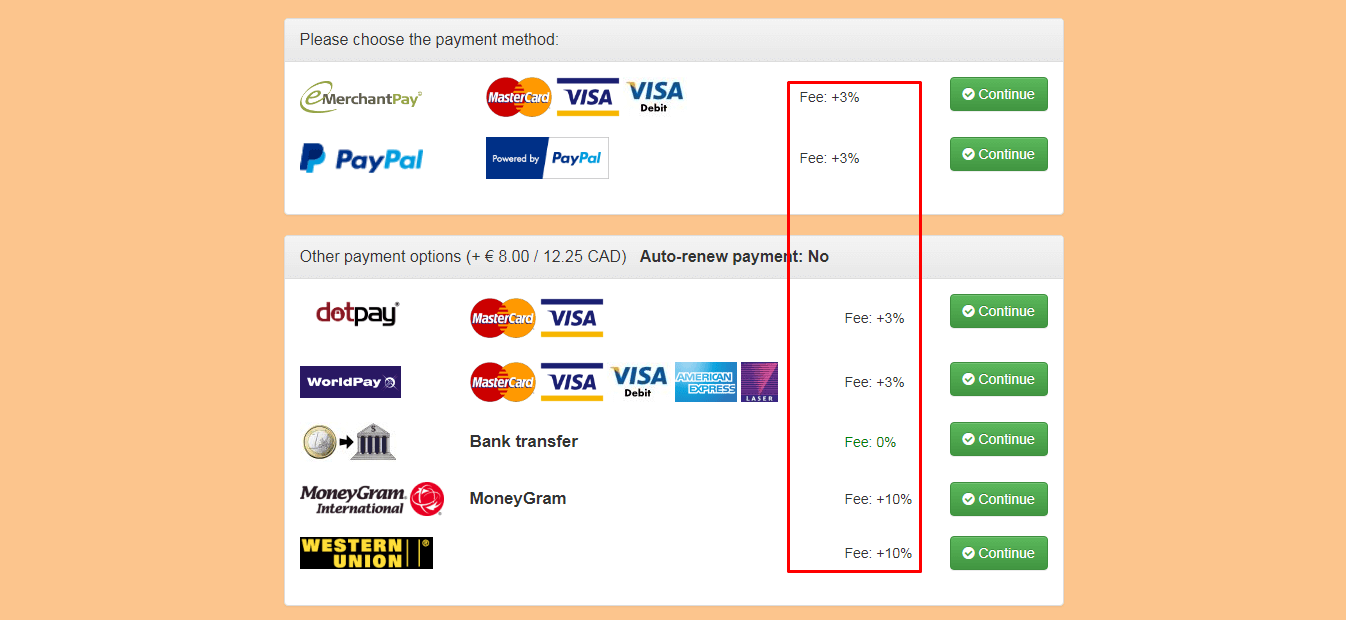 Safety
In terms of digital security, the LatinLove platform is entirely safe. It is regularly tested by SecurityMetrics and features the associated certificate.
It ensures safe payments. Your financial data is stored and processed with the maintenance of the highest security standards. Besides that, LatinLove features McAfee and Thawte certificates, which also adds to the digital security.
Fraud Prevention Measures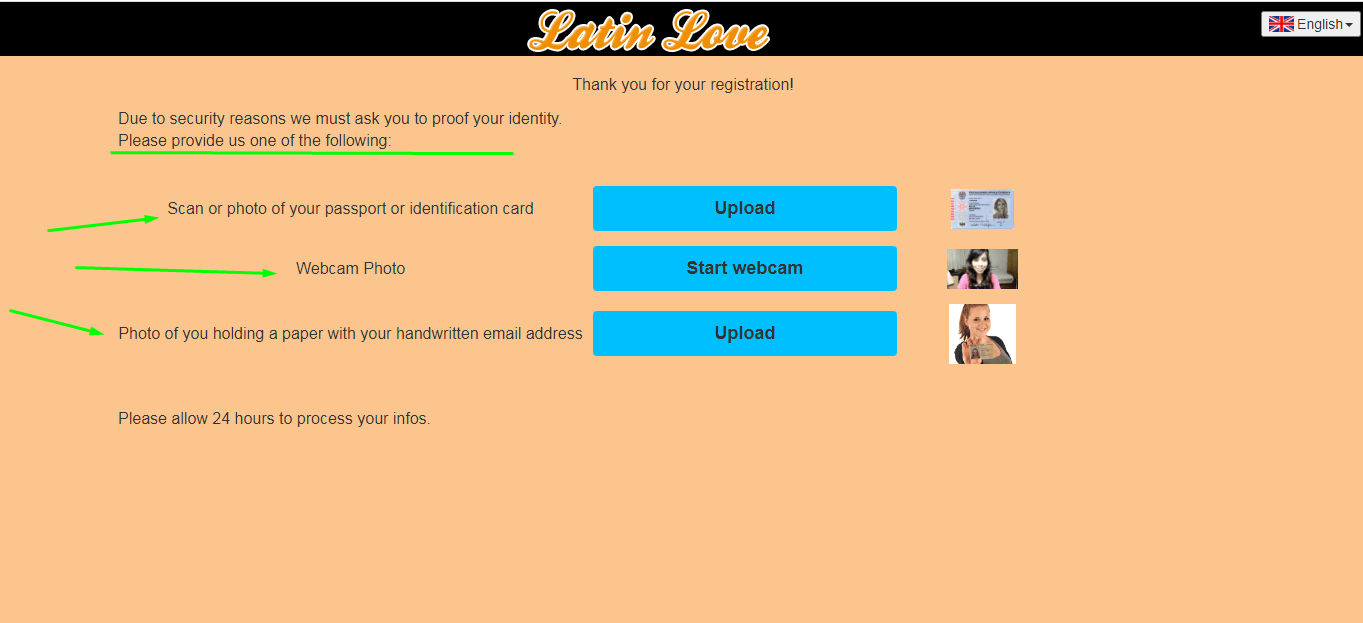 The administration checks the dating profiles and tries to combat scammers. However, as we mentioned before, these measures seem not to work in practice due to fake users on the platform. Profile verification is quite selective because users cannot confirm their identity on their own. One person may be asked to verify the account, and others may not receive such a request. It results in a large number of scammers.
FAQ
What is LatinLove?
LatinLove is an online dating service designed for singles from Latin America.
How much does LatinLove Cost?
Registering an account and managing your profile is free, while communication requires purchasing a premium subscription. The monthly membership starts at €27.00. You can save up to 50% of the subscription costs with the loyalty program.
Is LatinLove Legit?
The service is legally registered in Berlin and certified by McAfee, Thawte, and SecurityMetrics. You can make safe purchases on the website. However, communication with LatinLove users may be risky because of the large number of scammers.
Who owns LatinLove?
IK Softwareportal GmbH, a German software provider, owns LatinLove.
Does LatinLove have a Mobile App?
The mobile application is available for Android users for free. You can download it from the official LatinLove website or Google Play.
How do I Delete my LatinLove Account?
Take these steps to delete your account and profile:
Go to the settings menu and locate My Membership.
Press the Delete Profile button.
Follow the confirmation link.
Press the Delete Membership Permanently button.