Open table of content

Website of the day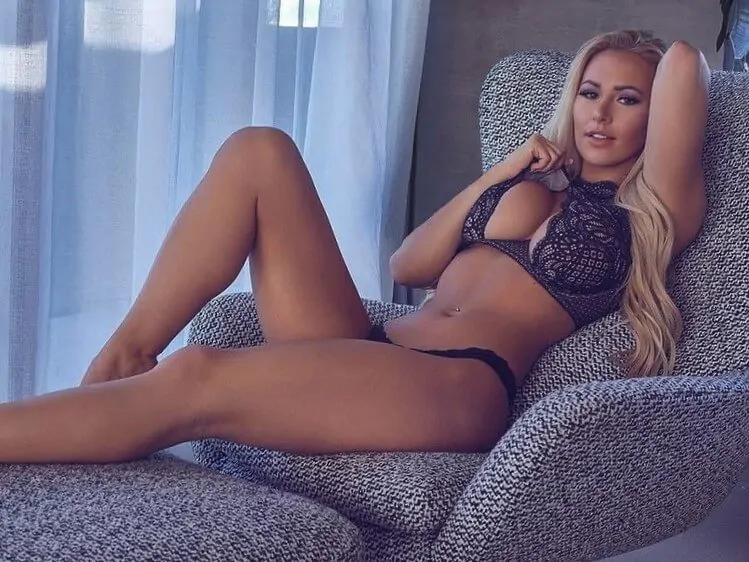 LatinEuro Review: Can you Achieve Dating Success on this Site?
LatinEuro has been present in the dating industry since 1989. Thus, it is one of the oldest dating agencies. The current LatinEuropo website domain was registered in 1996. Since then, the platform has accumulated a sizable audience, becoming one of the largest dating platforms for Latin Americans. How can you benefit from it? Check a summary of Latin Euro's strengths and weaknesses.
OUR VERDICT
Ease of Use

Profiles Quality

Safety

Prices

PROS
Free messaging
Safe website
Massive community
CONS
No mobile application
Inconvenient interface
Outdated website design
How Does LatinEuro.com Work?
The unique thing about this platform is that you can observe the audience before registering on the website. The Latin Euro profiles are open to anyone visiting the site. It is quite convenient since you can browse website members, click on their full-size photos, check the profile information, and use website search. Therefore, you can evaluate the audience quality in advance.
Sure, some Latin Euro members prefer not to be visible to unregistered users. To stay anonymous, they switch on the privacy mode.
What about other website features? Let us start with the registration specifics.
Sign-Up Process
Registration on the Latin Euro website requires the following steps:
Go to the LatinEuro homepage and press the Enter Site button.
Press the red Join Free button in the header.
You will have to create a profile during registration. Therefore, fill in the necessary information.
After creating a free account, you will proceed to your control panel.
It is worth mentioning that the Latin Euro registration is quite tricky because of poor navigation. You will struggle to find the sign-up form among numerous website elements. Also, LatinEuro requires you to enter such personal information as phone number and postal code, which is risky.
Fraudsters can use this info for malicious purposes, e.g., to steal money from your bank account, e-wallet, etc. All in all, the sign-up on this site is not as convenient as compared to other dating platforms.
Customer Service
You can check the FAQ page to clarify the necessary information or address the support team by phone and via email. The FAQ page contains comprehensive info about payments and how the site works. As for the support team, it typically replies within a day.
Reputation
You can check some LatinEuro reviews on the official website. The agency claims to unite thousands of people (without providing exact numbers). As for online review platforms, many users consider Latin Euro satisfactory and rate it 3.5/5 on average.
Members & Messaging
LatinEuro is indeed a niche dating platform. You will not find many women living in the US or Canada on this site. About 80% of women registered on this site live in Latin American countries. For instance, if you filter Brazilian girls in the website search, you will find around 2,000 dating profiles. Also, over 120,000 people visit the platform monthly. Thus, as for a niche site, LatinEuro has a large community.

Website of the day:
La Date
Profile Quality
As for profiles, this service cannot keep up with modern dating platforms. People on this site don't seem to complete profile descriptions. You will see the default "ask me about it" lines in their profiles quite often.
Also, many users have only a couple of pictures. Besides, they don't seem to post high-quality images. Most of the profile photos can hardly be called enjoyable. However, you can always ask a person to send you more photos. Thus, it is not a big deal, and anyway, it does not depend on the platform itself since technically, you can upload up to nine images.
Real Profiles?
LatinEuro does not use fantasy profiles. What are they? These are mere robots designed to entertain real website members. Many dating agencies with questionable reputation implement such features to launder money from trustful customers. As for LatinEuro, you will not find robotic-sounding users or profiles with the "fantasy" logo.
But does it mean that all the customers are real on this platform? Generally, they are. However, you still can meet fraudsters since creating a fake profile is extremely easy on this site. Besides, LatinEuro openly states that it does not bear responsibility for the accuracy of users' profile information.
Therefore, you will have to ask a person for more photos in different environments, call them by phone, and use video chat to make sure they are real.
Interaction with LatinEuro Girls
LatinEuro does not provide too many communication options. There are a few ways of interacting with people on this site:
Sending winks
Asking for contact information, such as email address and phone number
Adding members to favorites
Unfortunately, no video shows or group chats are available.
LatinEuro Messages
Unlike 90% of dating sites, LatinEuro does not provide a chat option. Instead, it sells you the contact details website members have included in their profiles.
If you want to text them, you will have to buy their contact information. After purchasing the users' contact details, you can reach them by phone, email, or snail mail. Basically, LatinEuro is a contact details exchange platform.
Live Translation
How to call a Spanish-speaking girl if you know only a few words in Spanish? You can overcome the language barrier by asking for a live translation service. LatinEuro allows you to order a translation/interpretation service from their translator, Mara. She will assist you in talking to your sweetheart via the 3-way call.
Mobile App
Today, life is unimaginable without a smartphone. If you are used to mobile dating, you will hardly find LatinEuro a suitable platform for this purpose. It does not provide a mobile application, so you will have to use the site's mobile version.
Unfortunately, mobile design is poorly adapted for smartphones and tablets. You will browse a 20% zoomed desktop website and pinch fingers apart and together to adjust the LatinEuro website pages. Eventually, you will develop callus on your thumb and index fingers. Therefore, the LatinEuro mobile experience is awful.
Design & Usability
LatinEuro website's design is far from perfect. It is outdated, looks unfinished, and uses different colors inconsistently. The logo, text, button frames, and section backgrounds acidly glow with varying shades of green, red, blue, brown, etc. Nevertheless, you can navigate the website without much trouble. The main sections and the registration button are placed in the header. However, things get worse when it comes to the control panel.
Dashboard Design
First, you will find that there is no consistency in the logo. On the website's homepage, it is colored purple and red. After entering your account, you will notice that the LatinEuro logo is quite different. It blinds you with an acidic combination of blue, yellow, red, and green colors.
As for navigation, it isn't perfect either. Due to the unfinished look, the sections seem to be placed chaotically, and you will stare at the screen for quite a time to find the necessary button. Besides, the crucial sections, such as website search, are frameless. Thus, you will struggle to locate the links to website search or FAQ.
Still, after spending some time on the website, you will get used to its navigation. By default, you will get to the Profile section of your dashboard. You can navigate other dashboard parts in the upper bar.
Dating Profile Design
LatinEuro's dating profiles are oddly organized. Once you click on a profile, you will see that its picture and description are separated with unused space. Such an approach to website elements placement makes it challenging to scan the dating profiles. Interestingly, when a profile contains several pictures, there is no such gap on the page.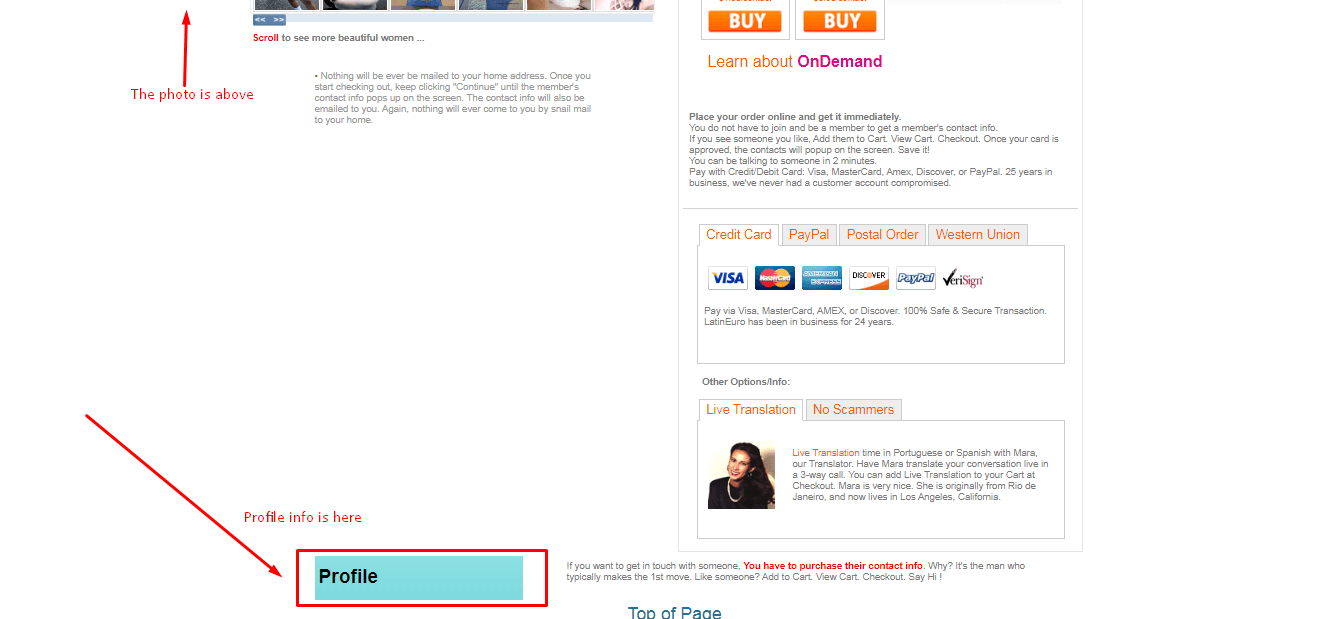 Usability
There is no regular account settings menu. Therefore, you cannot manage notifications, update your login information, or do any other thing available on literally any website where user registration is enabled.
Besides, you cannot track your activities since there are no statistics on likes, views, messages, etc. The same thing touches profiles. Latin Euro does not even display the last time a user was active.
This agency lacks basic features that all dating websites and social networks share. Therefore, it is terrible in terms of usability.
Pricing & Payment Methods
You can benefit from all the services for free except for user contact info. After purchasing the members' contact details, you will chat with them via email unlimitedly or talk by phone for as long as you have money on your phone balance. If you want to text a person, add them to a shopping cart, and proceed to checkout. Here are the prices for the contact details:
1-10 contacts for $25
11-60 contacts for $69
61-200 contacts for $99
As for memberships and subscriptions, Latin Euro offers one. The On Demand plan allows you to acquire user contact details in bulk: 45 and 200 contacts for $45 and $99 per month, respectively.
With this subscription, you can start chatting with other users whenever you want. It is more convenient since you don't need to make an individual purchase every time you want to text someone new.
The prices are quite controversial. LatinEuro's subscription seems to be more beneficial than a regular membership at first sight. However, what is the chance of a particular woman sharing sympathy? You were lucky if at least three users out of ten would be interested in you.
Translation Prices
The translation service is quite costly – Latin Euro will charge you $15 per ten minutes. This service is optional, and if you need an interpreter's assistance, you can add it to your shopping cart.
Payment Options
Latin Euro provides an extensive range of payment means, from credit cards to postal service. Therefore, you can conveniently use the service regardless of your location.
Safety & Security
The website is certified by VeriSign and SecurityMetrics, which means it is secure and free from malware. Daily security scanning ensures that the site is entirely safe. Besides, it features a valid SSL certificate. This kind of protection guarantees that your data is kept secure.
Therefore, you can purchase services on this website without risking your financial and other sensitive information. Also, we did not find a single Latin Euro review mentioning transaction issues or recurring payments after canceling the membership.
Anti-fraud Measures
Latin Euro does not check its users' background. It does not apply identity verification either. At the same time, the administration reviews each newly registered profile within 24 hours. This agency does not claim to be the most reliable in the industry and openly states that you may meet a fake or scammer on the platform.
Latin Euro cannot ensure a 100% secure environment and warns you about fraudsters. Therefore, you should never send money to any person on this platform. As long as you follow this simple rule, your purse will remain safe.
The Verdict
The Latin Euro dating service is entirely satisfactory, and you can benefit from it if you want to meet some hot girls from Latin American countries. Despite its old-fashioned interface and unusual pricing policy, it can become quite useful due to the broad community.
Besides, it is free from malware, safe for transactions, and allows you to chat with users unlimitedly after purchasing access to their contact information. All these features let this platform unite people successfully.
FAQ
What is LatinEuro?
It is a matchmaking service designed for singles seeking relationships in Latin America.
Is LatinEuro a Scam?
Latin Euro is a registered business that operates lawfully. No lawsuits have been brought against this service. We did not find any hidden payments and other scam signs either.
How much does LatinEuro Cost?
You can register, use website search, browse profiles, and view profile photos for free. Revealing the members' contact details is paid. You can purchase contact details for as low as $0.50 per contact.
Can I use LatinEuro Anonymously?
You can stay on this platform anonymously. Although user accounts are open to search engines, you can use privacy mode to exclude your profile from search results. Besides, your real name is not required on this platform.
Is LatinEuro Messaging Free?
You can message users for free after getting their contact details.
How do I Delete my LatinEuro Account?
You need to contact the support team to delete your account.