Open table of content

Website of the day
New Latino People Meet Review: Is It Scam, Trustworthy, or Just OK?
Long gone are those days when you needed to get out of your house to meet new people. You do not need to go to nightclubs and bars to find a partner for a hook-up or even a relationship now. There is no need to hit the girls you liked on the streets of your city.
OUR VERDICT
Ease of Use

Profiles Quality

Safety

Prices

PROS
quick registration;
simple website;
the possibility to edit your profile later.
CONS
limited features even for premium members;
prices are not fair;
safe payments methods are absent;
no mobile app;
doubtful quality of users' profiles.
Summary
Instead, all you need to do is just sign up with a dating website that offers communication with people of a certain ethnicity, nation, or just your location. Still, it only looks easy at first sight: if you do not know how to differentiate a proper dating platform from a scamming one, you are likely to lose a lot of money. Hence, we created this Latino People Meet review to help you to get acquainted with the service and its peculiarities. Latinopeoplemeet.com is a dating website that offers dating people of Latino origin. It hosts over a million members and the majority of them are from the US. The website was launched early in 2000, and that's why it has been so popular among people. However, it does have its pros and cons that we propose you get to know right away before you decide to join.
Check all reviews
How Does LatinoPeopleMeet.Com Work?
Sign-Up Process
To join the website, we have chosen the only button on the homepage that looks like the following.
For those who already have an account, the LatinoPeopleMeet login button is available below this window.
In the first stage of the registration, we were asked to indicate whom we are looking for. Luckily, the website allows browsing people of the same sex as yours in case you are a representative of a sexual minority.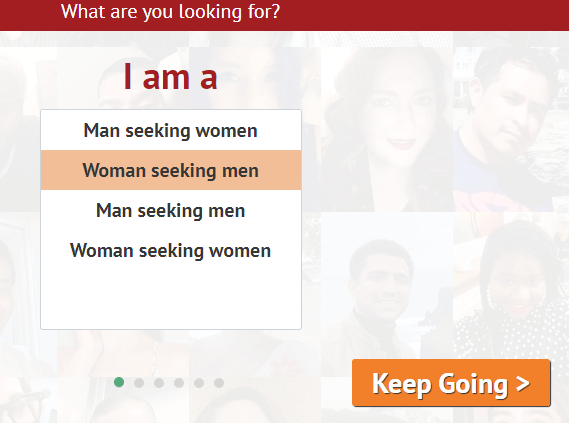 Next, you need to choose your country from the two options.
Then, you have to input your zip code to find matches in your location.
The next step will ask you about your name and password for your account. Please pay attention that you need to provide your first name, not a nickname.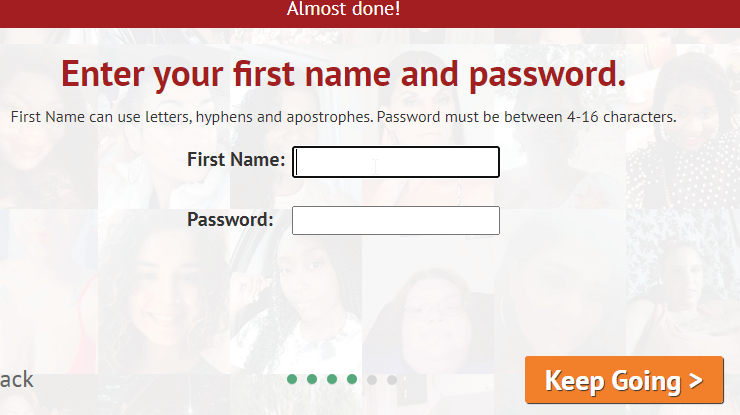 The final steps include your birth date and email questions. Once you are done, you need to click on the 'Keep going' button to proceed.
We thought that the registration would have been completed on this step, but Latino People Meet offered us to upload a photo. We refused to do that at the moment and clicked on the 'Skip this step' button.
A short bio also has to be provided. Unfortunately, there is no chance to skip it so we added a few lines to make our profile look a bit more reliable.
Now, when we intended to start browsing profiles of other users, LatinoPeopleMeet told us to upgrade our membership plan. Since we did not need it, we pressed on the gray 'Skip this step' button at the bottom left corner.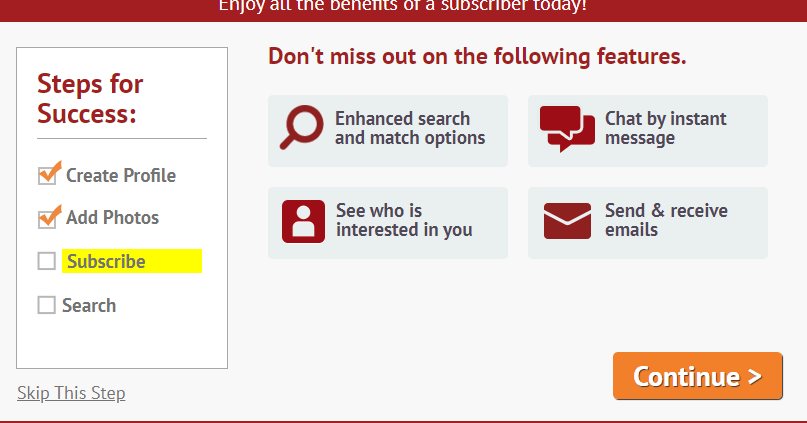 At this stage, we can say that the whole sign-up has taken us less than 5 minutes to complete. However, we did not like the additional questions that appeared again and again while the website said we were "almost done". Neither we liked the window urging us to upgrade our membership immediately. All in all, we need to get to know more about Latino People Meet to create a concrete view of this site.
Members & Messaging
Once you have entered your profile on LatinoPeopleMeet.com, you will be proposed to choose your preferences to get matching profiles.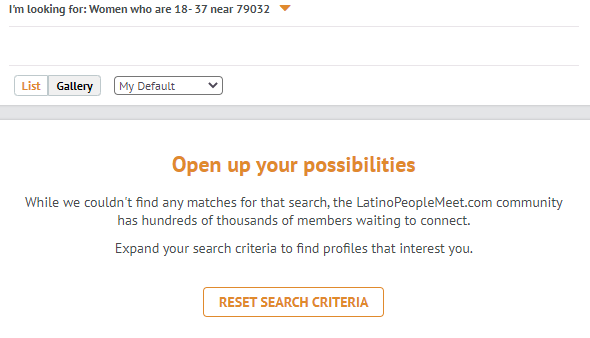 However, when we clicked on the button at the bottom, we got no results at all. Then, we clicked on the 'Search' tab at the dashboard but still no results were found. Does it mean there were no users from our area on the website? We tried to remove the zip filter and just typed the name of the state. The list of members appeared immediately.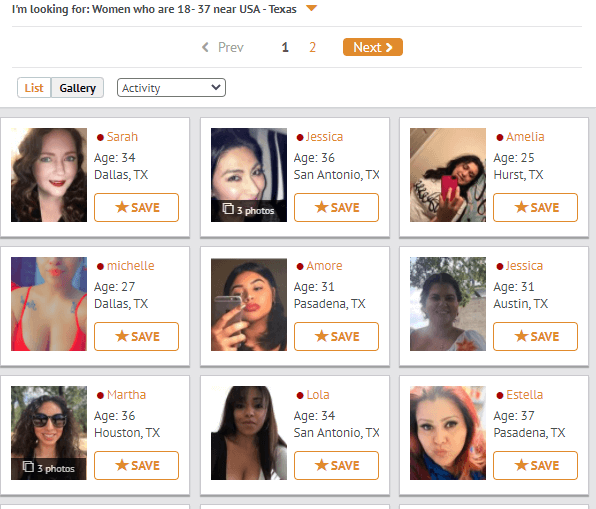 We were pleased to see so many ladies from Texas on Latino People Meet. As you can see, not all of them are Latinas, so we started checking profiles one by one to know what they are like.
Members' profiles look like the following. At the top, you the name of the member, their age, location, short bio, and two buttons to start interactions with them. However, you cannot send messages until you have your account upgraded to a certain prepaid plan. All you can do is send a flirt to a person you like.
Below, you can read personal information, personality questions, preferences of the member regarding their potential partners, etc. What we liked about the people's profiles on LatinoPeopleMeet is that they are detailed enough to trust them.
Now, let's take a look at LatinoPeopleMeet reviews of the recent users to know what they think about the quality of the audience here.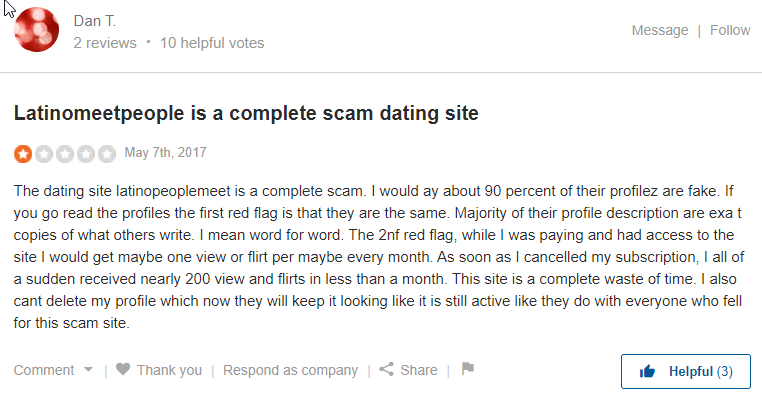 Unfortunately, a lot of people say that the majority of people on the site are fake. That is not good news since it means you will hardly find a partner here. Hence, we advise you to take these testimonials into account when deciding on whether to use Latino People Meet or not.
App
Another drawback of the Latino People Meet website is that it does not have an app for members to use it on the go. A mobile version of the website is also not available. Consequently, we advise you to pick another platform for your online dating experience.
Design & Usability
As for the visual content of this dating site, we cannot say it has something to make you wonder. The website design looks outdated as if it was not updated for at least 10 years. The same thing can be said about the profile dashboard.
However, we have to admit that it works well and looks simple. Throughout our experience of using LatinoPeopleMeet.com, we did not notice any errors. The website did not crash and has been working correctly. Overall, our impression of it is neutral at this stage.
Pricing & Payment Methods
If you have not bought a membership plan yet, the invitations to do that would chase you every time you try to make contact with other members.
The LatinoPeopleMeet subscription can be purchased any time by clicking on the 'Upgrade now' button at the top of your profile homepage. You will be taken to the checkout page immediately. The offers you will see there are the following:
$13.99 for 1 month of premium membership;
$26.97 for the 3-month plan;
$38.94 for a half a year plan.
At first sight, these prices seem to be much lower than those in the market today. You may be tempted to try some package, but do not rush. Let's see what the  website can offer for this money:
reading and giving reply to messages of other users;
review the list of people who liked you or sent you a flirt;
chatting with other members online.
As you can see, LatinoPeopleMeet offers a limited number of features even to prepaid members. Therefore, we do not advise you to use this service: there are many better options on the web.
As for the payment methods, Latinopeoplemeet.com proposes only credit card payments or mail-in orders. No safe methods like PayPal or Webmoney are available. We can consider it as a drawback of the website as well.

Website of the day:
La Date
Safety & Security
Latino People Meet Terms of use state that all information that their users share on their profiles, they share at their own risk. Consequently, you have to think twice before posting your real name, address, pictures, etc. on your profile. Also, you will have to be a lot more careful with your sensitive information that includes your race, ethnicity, sex preferences, and so on.
Please take into account that Latino People Meet shares your information with other users, third parties, and their subsidiaries for different purposes, including marketing.
The Verdict
Latino People Meet claims to be one of the largest networks for dating with people of Latino origin but it is not, in fact. The website has a lot of fake profiles as reported by other users. In this LatinoPeopleMeet review that we collected, you had a chance to see how many cons this platform has.
FAQ
What is LatinoPeopleMeet.Com?
Latino People Meet is a website where you can meet people of Latino ethnicity. The majority of them live in the USA.
Is LatinoPeopleMeet.Com a Scam?
Unfortunately, it is. Due to the number of negative testimonials, unfair prices, and limited services provided, we can say Latino People Meet is a scam.
How much does LatinoPeopleMeet.Com cost?
The prices start at $13.99 for the cheapest package.
Can I use LatinoPeopleMeet.Com anonymously?
No, you cannot. You need to provide your first name to register on the site.
Is LatinoPeopleMeet.Com messaging free?
No, it's offered on a prepaid basis.
How do I delete my LatinoPeopleMeet.Com account?
Go to the 'Settings' tab, choose 'My account' option, and follow the instructions of the website.